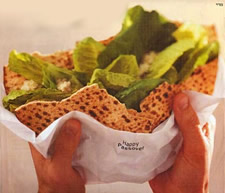 Community Seder!
Experience Passover
Like Never Before...

Relive the Exodus,
discover the eternal meaning of the Haggadah and enjoy the community Seder complete with hand-baked Matzah, Wine & a wonderful dinner spiced with unique traditional customs.
What: Traditional Passover Seder
When: Friday Night, March 30, 2018 at 7:30 pm
Where:
Wolff's Residence
Cost: $40 Adult / $20 Child under 12
Sponsor: $180
Partnership: $360

Chabad does not turn anyone away due to lack of funds.
Email:Rabbi@ChabadHomebay.com
By Prior Reservation Only.
RSVP by Wednesday, March 21st .